This 3 one-hour critically acclaimed and highly inspiring series on feminine power features some of today's most fascinating and respected women at their eloquent best, remarkable trailblazers who redefine our notions of power and leadership and invite women everywhere to search for their own truth, to find their own voice, and to claim their own personal source of authentic power.
A UNIQUE CELEBRATION OF FEMININE POWER
Featuring: Jane Goodall, Alanis Morissette, Erica Jong, Gloria Steinem, Shirley MacLaine, Naomi Wolf, Lynne Twist, China Galland, Anita Roddick, Joan Borysenko, Jean Huston, Sherry Anderson, Gail Sheehy, Apela Colorado, SARK, Ilene Cummings, Oriah Mountain Dreamer and Laurel Mellin.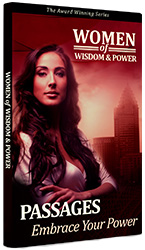 Volume I. PASSAGES
CREATE THE LIFE YOU WANT
The multi-faceted wisdom of these amazing women evokes a depth of spiritual acumen which encompasses a wealth of practical concerns from leadership skills and business management to finding one's way through "the dark night of the soul,"; aging gracefully, new beginnings, self-discovery, financial freedom, passionate engagement in the social struggles plaguing our world and the requisite steps to elevating the nature of our lives, our careers, and our family relationships.
Featuring: Jane Goodall, Lynne Twist, Anita Roddick, Joan Borysenko, Jean Houston, Gail Sheehy, Sherry Anderson, Apela Colorado, SARK, Laurel Mellin.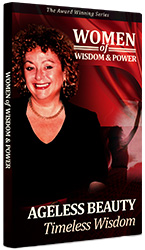 Volume II. AGELESS BEAUTY
Today's most fascinating women re-define the stereotypes of aging and inspire us to embrace the most exciting and deeply rewarding years of our lives. Ageless Beauty celebrates the feminine life cycle and explores ways to effectively embrace our physical and emotional changes to bring healing and joy into our everyday lives. Featuring the 10 commandments of a beautiful ageless woman, this intellectually stimulating and emotionally involving special will revolutionize every woman's thoughts about aging. In short it is the best of times, and the years ahead spread out like a brand new playing field.
Featuring: Jane Goodall, Erica Jong, Lynne Twist, Anita Roddick, Joan Borysenko, Ilene Cummings, Gail Sheehy, Sherry Anderson, SARK, Laurel Mellin.
Volume III. THE POWER WITHIN
The phenomenal women we are privileged to feature in this Quest all have one thing in common. A powerful belief in themselves which allowed them to take risks, overcome obstacles, reach personal milestones and become extraordinary catalysts for positive social change in the world.
Featuring: Jane Goodall, Gloria Steinem, Shirley MacLaine, Alanis Morissette, China Galland, Naomi Wolf, Lynne Twist.
As Margaret Mead said, we must never doubt that a small group of committed people can change the world. In fact, it's the only thing that ever has.
IT IS THE POWER OF WOMEN THAT WILL HELP HEAL THIS WORLD. EMPOWER WOMEN. CHANGE THE WORLD.
We are passionate in our cause to encourage women to grow personally and professionally through leadership, ideas and inspiration. We have dedicated our life to launching a global women's empowerment initiative called Women's Day Live to help realize the dream of equality for women in our lifetime. We welcome all emerging women of wisdom and power to join our community. Let the adventure begin!
IT'S OUR TIME TO LEAD. What You Will Learn
Revealing the keys to authentic power and wisdom, this unprecedented gathering of some of today's most phenomenal women inspire you to learn:
The relationship between the beauty myth and your self esteem.
How to find emotional strength and wisdom in times of crisis, loss and grief.
How you can bring spirituality and nurturing self care into your daily life.
How to break through what is holding you back from success.
The 10 commandments of an ageless beauty.
The principles of acquiring an abundance mentality and financial freedom.
To lovingly embrace your beauty and wisdom and power!
They're all here! The most remarkable women of our time. Their candid heartfelt reminiscences will move you to tears and leave you nodding in recognition.
"The Women of Wisdom and Power trilogy is a remarkable resource for women when we particularly need inspiring and powerful role models. The wisdom shared by these women has the potential to change lives, as I and others can attest. When Alanis Morissette talked about being a target of other people's projections, my friend walked away with a powerful internal strategy for creating appropriate boundaries. I could give you many more examples of how this trilogy has influenced my life and the lives of others." - Catherine Carlisi